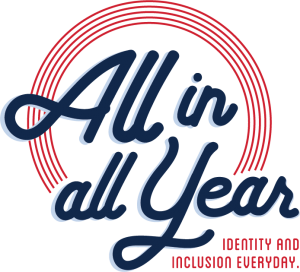 All In. All Year.
Identity & Inclusion Every Day
The All In. All Year. Calendar is a university-wide calendar coordinated and curated by The Center for Inclusion and Cross Cultural Engagement (CICCE) to promote diversity, equity, inclusion, and social identity-focused programs and events at the University of Mississippi and LOU community. This calendar seeks to bring awareness to DEI, foster conversation, and build community throughout the year!
_____________________________
Event Submissions:
To submit your event(s) to be featured on the All In. All Year. Calendar, please complete the form here. Submission of the form does not guarantee that events will be featured in the calendar. Submissions must align with the mission of the Division of Diversity and Community Engagement, inclusive excellence framework, and Pathways to Equity goals of the Division of Diversity and Community Engagement. Submitted events will be considered for marketing and distribution via the website, social media, a yearly calendar, and weekly announcements.
Submission Deadlines:
We are accepting submissions for the fall 2023 and spring 2024 semesters. Event submissions will continue to be accepted throughout the year. Submissions are reviewed every Monday for upcoming events. To ensure timely promotion, please submit your event at least 2 weeks in advance of the date.