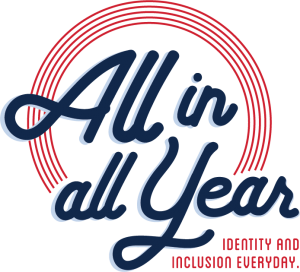 All In. All Year.
Identity & Inclusion Everyday
All In. All Year. is the Center for Inclusion & Cross Cultural Engagement's new intersectional approach to heritage month planning that allows for continuing conversations about multiple identities throughout the academic year!
2019 Fall Calendar
All In. All Year. – Fall Calendar
Click HERE for the printable version of the 2019 All In. All Year. Fall Calendar!
_____________________________
Event Submissions:
To submit your event(s) to be featured on the All In Calendar, please complete the form here. Submission of the form does not guarantee that events will be featured on the semester and/or monthly calendar; however, All In is not a programming approval board.
Submission Deadlines
Fall 2019 Semester Calendar: August 9, 2019 *events submitted for the semester calendars will also appear on the corresponding monthly calendars*
September Calendar: August 20, 2019
October Calendar: September 20, 2019
November Calendar: October 21, 2019
December Calendar: November 20, 2019
Spring 2020 Semester: January 6, 2020 *events submitted for the semester calendars will also appear on the corresponding monthly calendars*
January Calendar: December 20, 2019
February Calendar: January 20, 2020
March Calendar: February 20, 2020
April Calendar: March 20, 2020
May Calendar: April 20, 2020