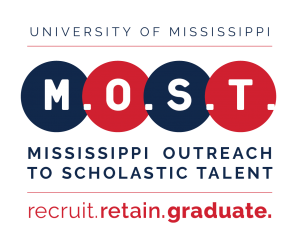 The 2020 MOST Conference application period, previously scheduled for April 1st-15th, has been postponed to an unspecified future date. As we continue to monitor the University and public health response to COVID-19, it is our promise to provide you with the most up-to-date information via our social media and webpage.
To receive updates via email about the 2020 MOST Conference submit your contact information HERE.
____________________
The MOST program is comprised of four programs and initiatives; 1) the MOST conference, 2) the MOST mentoring program, 3) the MOST Reunion and 4) the MOST Living Learning Community. The MOST Conference is an exclusive leadership and recruitment conference for rising African American seniors from Mississippi. This one-of-a-kind experience takes place over three days and two nights on our Oxford Campus. The goal of the summer conference is to expose prospective African American students to leadership activities, academic offerings, campus resources, faculty, staff, and student leaders.
Following the conference, mentors help to guide and support students through the admission process and throughout their freshman year. Participants are also invited back to campus to participate in a MOST Reunion the fall semester following their conference attendance.
The MOST Mentoring Program matches enrolled MOST Conference Participants with an upperclassmen mentor. Via e-mail, social media contacts, scheduled events, and 1:1 meetings, mentors provide additional support for first-year students that enables them to complete their first year at the University and on a course toward graduation.
And new in the Fall of 2019, the MOST Living Learning Community provides a supportive residential experience that fosters academic and social success for students who attended the MOST Conference. The LLC adds an additional layer of community to help MOST students succeed in their transition to college.
Find more information from the 2019 MOST Conference here –
Find more information from the record breaking 2018 MOST Conference here –
"Conference Offers Unique Insight Into College Life, Experiences", Ole Miss News
"Conference Draws Record Number of College Bound Students", Ole Miss News
Tonika Ingram, Coordinator, MOST Programming & Initiatives
P.O. Box 1848
662.915.1689 / tiingram@olemiss.edu